Dataset: Nationaal Wegen Bestand (NWB)
Het NWB-Wegen is een digitaal geografisch bestand van nagenoeg alle wegen in Nederland. Opgenomen zijn alle wegen beheerd door wegbeheerders als het Rijk, provincies, gemeenten en waterschappen, voor zover voorzien van straatnaam of nummer. 

Omschrijving
Over het NWB PDOK
Het Nationaal Wegenbestand (NWB) is een databestand met alle openbare wegen in Nederland die een straatnaam of wegnummer hebben en in beheer zijn bij het rijk, provincies, gemeenten en waterschappen. Het NWB bevat het wegennetwerk van Nederland.
Het NWB is de verbindende factor tussen de informatie over het wegennetwerk, het gebruik (verkeersintensiteit), de status, de beschikbaarheid en het effect van het gebruik op de omgeving (bijvoorbeeld geluid).
Het bestand wordt continu geactualiseerd en 12 keer per jaar gepubliceerd.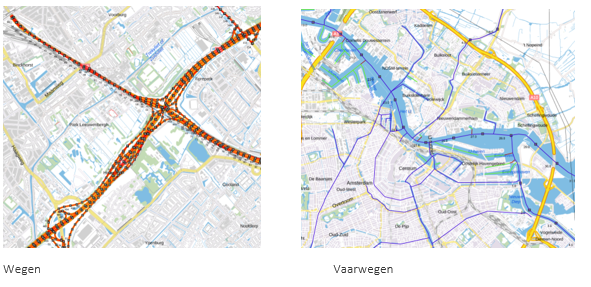 Wie maakt er gebruik van?
Het NWB is open data en wordt gebruikt door een brede groep afnemers. Het NWB wordt vaak gebruikt in toepassingen en producten waarbij een locatiereferentie van belang is en het bepalen van routes van belang is.
Grofweg zijn de toepassingen van het NWB te verdelen in 4 domeinen:
• Beleid
• Openbare orde en veiligheid
• Mobiliteit
• Leefbaarheid
Populaire voorbeelden zijn navigatie apps zoals Waze en apps voor het beheer van de openbare ruimte.
Wijze van inwinnen
Het Nationaal Wegenbestand wordt gemaakt op basis van data die wegbeheerders registreren in de basisregistraties en/of direct aanleveren aan Rijkswaterstaat.
Om een zo actueel mogelijk NWB te waarborgen, wordt het bestand gevoed door data uit drie basisregistraties, namelijk de Basisregistratie Adressen en Gebouwen (BAG), Basisregistratie Grootschalige Topografie (BGT) en Basisregistratie Topografie (BRT). De data die hieruit komt, geeft waardevolle input voor het NWB en zorgt ervoor dat het bestand van herleidbare kwaliteit is.
Data
– Het NWB bevat het wegennetwerk van Nederland en bevat een combinatie van topologische en topografische kenmerken
– Het NWB is een standaard waaraan gegevens gekoppeld kunnen worden. Dat maakt het mogelijk om gegevens van meerdere partijen aan elkaar te koppelen, en gebruikers kunnen eigen wegendata koppelen aan het NWB
– De historie van het wegennetwerk is beschikbaar voor lange termijn analyses
– Het NWB maakt het mogelijk om verkeersstromen te berekenen
– Het NWB bevat specifieke wegkenmerken (o.a. hectometerpalen en straatnamen en huisnummers die gekoppeld zijn aan de weg)
Samenhang met de basisregistraties BAG, BGT en BRT
Door gebruik te maken van de basisregistraties hebben gebruikers een bepaalde zekerheid over de kwaliteit van het NWB. De basisregistraties beschrijven met elkaar de digitale levenscyclus van de weg. Door de levenscyclus te volgen kan het NWB worden onderhouden.
Webservices en downloads
De datasets van de NWB zijn beschikbaar als WMS, WFS en downloads via PDOK. Er zijn twee varianten namelijk Wegen en Vaarwegen. De services bevatten kilometermarkeringen, hectometerpunten, wegvakken en Vaarwegvakken.
Meer informatie over de downloads vind je onder het tabblad Downloads. De webservices vind je onder het tabblad "Geoservices". Ook kun je de data inzien via de PDOK viewer.
Vragen
Vragen over de NWB (inhoudelijk, inwinning etc.) kun je stellen op het Geoforum. Op het geoforum kun je ook je vragen kwijt over de webservices en downloads van PDOK. Je mag PDOK ook direct mailen via beheerpdok@kadaster.nl.
Heb je (of maak je) een mooie toepassing v.w.b. het gebruik van de NWB data? Dan horen wij dat graag! Stuur dan een mail naar beheerpdok@kadaster.nl.