Dataset: Actueel Hoogtebestand Nederland (AHN3)
Het Actueel Hoogtebestand Nederland (AHN) is een hoogtebestand vervaardigd door middel van laseraltimetrie.

Omschrijving
Over AHN
Het Actueel Hoogtebestand Nederland (AHN) is de digitale hoogtekaart voor heel Nederland. Het bevat gedetailleerde en precieze hoogtegegevens met gemiddeld acht hoogtemetingen per vierkante meter. AHN is een samenwerking van de provincies, Rijksoverheid en de waterschappen.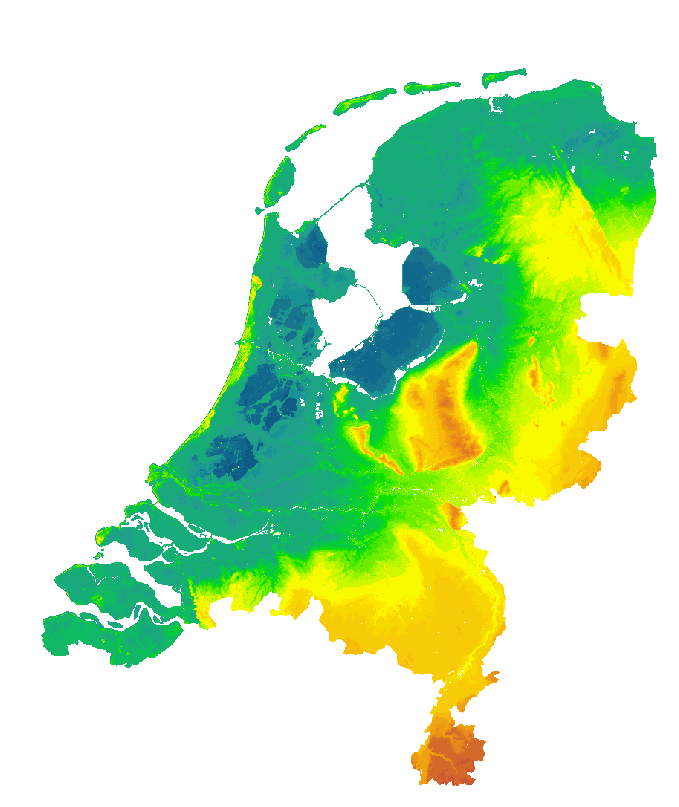 Wie maakt er gebruik van?
Organisaties zoals de waterschappen, de provincies en Rijkswaterstaat maken gebruik van het AHN voor water- en waterkeringbeheer. Aan de hand van de hoogte en het hoogteverloop van het maaiveld wordt bepaald of het water voldoende van het land kan stromen, hoe hoog het waterpeil in de sloten mag zijn, het water in rivieren, uiterwaarden en sloten voldoende kan worden afgevoerd en of de dijken nog hoog en sterk genoeg zijn.
Het AHN wordt daarnaast voor vele andere soorten beheer gebruikt, zoals het dagelijks beheer en onderhoud van dijken, het maken van bestekken voor groot onderhoud, 3D-karteringen, vergunningverlening en handhaving. Ook gemeenten, bedrijven en onderzoekers gebruiken de gedetailleerde hoogtegegevens. Zo hebben archeologen aan de hand van kleine hoogteverschillen in weilanden oude nederzettingen opgespoord die voor het blote oog niet opvielen.
Wijze van meten
De hoogte wordt gemeten met laseraltimetrie: een techniek waarbij een vliegtuig of helikopter met een laserstraal het aardoppervlak aftast. De meting van de looptijd van de laserreflectie en van de stand en positie van het vliegtuig geven samen een heel nauwkeurig resultaat.
Data
De datasets van het AHN1, AHN2 en AHN3 zijn beschikbaar als Open Data. Dat betekent dat de data door iedereen gratis en zonder beperkingen te gebruiken is. Zowel de rasterdata als de puntenwolken zijn te downloaden.
Verschillen AHN 1,2 en 3
Een opsomming van de verschillen tussen de verschillende AHN bronnen zijn: Tijdverschil/ inwinperiode, hoogtenauwkeurigheid, van filtering naar classificatie en puntdichtheid. Een verwijzing naar het document met meer details omtrent de verschillen volgt. Tot die tijd kunnen vragen gesteld worden via de kanalen hieronder genoemd.
Webservices en downloads
De datasets van het AHN1, AHN2 en AHN3 zijn beschikbaar als downloads en webservices via PDOK . De AHN 1 en AHN 2 zijn beschikbaar als directe downloads via Atomfeeds. De AHN 3 is beschikbaar via een downloadviewer. Meer informatie over de downloads vindt u onder het tabblad Downloads.
De webservices vindt u onder het tabblad "Geoservices". Ook kunt u de data inzien via de PDOK viewer of AHN viewer.
Vragen
Vragen over het AHN (inhoudelijk, inwinning etc.) kunt u sturen naar info@ahn.nl of stellen op het GeoForum. Op het geoforum kunt u ook uw vragen kwijt over de webservices en downloads van PDOK . U mag PDOK ook direct mailen via beheerpdok@kadaster.nl.
Heeft (of maakt) u een mooie toepassing v.w.b. het gebruik van het AHN dan horen wij dat graag! Stuur dan een mail naar beheerpdok@kadaster.nl.